Loughborough & Grand Ave @ Hwy 55
A city block directly across from Carondelet Park
Mid-April, it was a typical and eclectic South Side block within a typical and thriving South Side neighborhood. By Memorial Day weekend it was a creepy and tattered ghost town. The attractive gets ugly for the sake of progress.
The story is better told here.The visuals add a chilling effect, and its Insta-Blight reminds me of descriptions of Depression-era Hoovervilles. Those areas were created in response to a national financial tragedy, while Lowe'sville is purposely created for the financial gain of a select group.


Empty Nordyne: Awaiting the ball – engaging the ball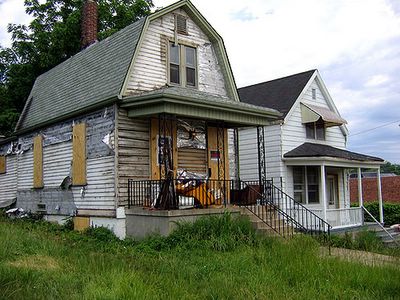 Blow St., back side of the block
While alive, these were the rattiest houses on the block, as they were stranded among parking lots for the Athletic Club, Schnuck's and the Nordyne factory. On the day I photographed them, a dehydrated and derranged drunk stumbled out of the debris and slurred, "What you takin' pictures of?"
"These houses," I answered, holding my breath as he passed.
He rolled a few feet down Blow and yelled back, "Why? They're dead!" The drunk eventually fell into Schnuck's, who called an ambulance for him.


Mid-block, Grand Ave.
Right next to these houses is the lone holdout. It was disconcerting to see a single house, pristine and decorated for the holiday, pretending the block was not crumbling around it. It was also a capsule comment on how ideal the block was just several weeks previous.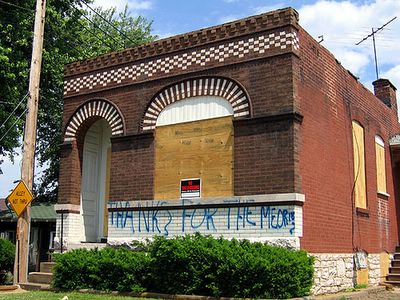 Grand Ave. near Loughborough
The spelling's off because they ran out of room, but still poignant.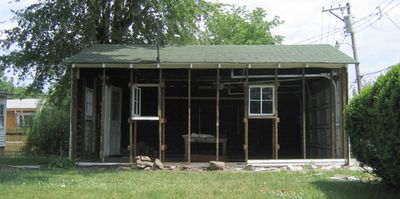 Corner house at Grand & Loughborough
Even as the family held a weekend "Moving Sale" in the house, Tarlton was stripping their garage.


Loughborough, facing the park
Seems the portion of Carondelet Park that will be facing the new retail city will, essentially, be dead. The city's Parks Commission disagrees.


From Hwy 55 overpass
Even in a decomposing state, it's a more compelling personality than what will replace it. But who needs character when you have cash?